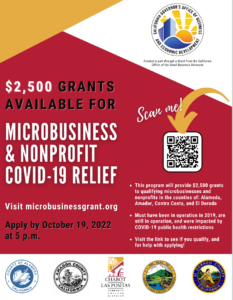 Micro-Business Grants are available through Chabot-Las Positas Community College District and a partnership with the California Governor's Office of Business and Economic Development, to disburse their Covid Relief Grant Monies.
Each grant is $2500 and is meant to help those whose organizations and micro-businesses suffered throughout the pandemic. A Micro-Business is any entity with less than 5 employees that were affected by the COVID health department shut downs.
You can also access the information by clicking the following links:
– https://sites.google.com/swccd.edu/clpccd/home
There are plenty of grants to go around and we hope to disburse all of the allocated money! The deadline is October 19, 2022. Please, don't hesitate to reach out to Jamie DeWitt with any questions.
Jaimie DeWitt
Chabot Las Positas Community College Independent Contractor